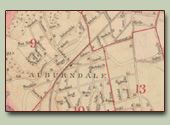 Many people spend more time worrying about the future than actually doing something about it. With a financial plan in place, including a strategy to achieve specific goals, you can proceed with confidence that you may be able to achieve your financial goals and a rewarding future.
Estimate how much would remain after paying income taxes and penalties if you took an early distribution from a retirement plan.

Knowing your likely life expectancy is an important factor in making long-term financial plans.

This Cash Flow Analysis form will help you weigh your income vs. your expenses.

Determine whether you should consider refinancing your mortgage.